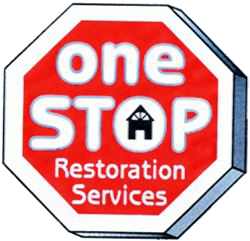 One Stop Restoration Services
A Subsidiary of Olive Branch Contracting
Our combined 43 years of experience and commitment to excellence have earned us the reputation as the best Fire Damage, Water Damage and Mold Remediation company in the Sedona/Verde Valley area.
We are Licensed and Bonded, Council Certified, Microbial Mold Remediation Experts. We specialize in Water Dry-Out, Water Damage, Mold Inspections, and Mold Removal / Remediations as well as the complete remodel or room addition for your home.
One Stop Restoration is committed to keeping your environment safe. As per EPA GUIDELINES, we set up containment of affected areas using a double flap entrance to keep all contaminant molds secured.
Our products are completely safe to your health as well as the environment. We use negative air machinery/ air scrubber along with Hepa Vacuums to remove all contaminants. Special plastic bags are used to dispose of molded dry wall, insulation, etc.
We are tested every two years to continue our certification with the ACAC for mold remediation. as well as changes in technology in our continued effort to keep you and our environment safe.
During and after a Mold Removal, there are no Volatile Organic Compounds or VOC's on the sealant abatement assisted products. Mold Spores are resistant to our products as long as the area remains dry after our remediation.
Whether you need a Water Dry-Out of your home due to a broken water pipe, or a Mold Inspection or an Room Addition or Remodel of your home, we have what you need at prices you can afford.
Olive Branch Contracting has experience as Structural Contractor, which includes water dry-outs, water damage, mold inspections, mold removal, or fire damage. Our goal is to provide you with courteous, expedient, professional service of the highest caliber.